If you are like me it's such a thrill to meet and greet new people. To enjoy what others have to share, to learn new things. To compare yourself to others and just see where you are in life. I LOVE IT!!!
Today I am part of the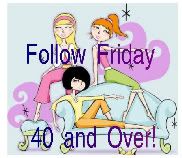 and
There are tons of blog hops for just about any day of the week but Fridays there are tons of them. There's no way I can keep up with them all so these are my two favorite I'm sharing with you.
I hope that you all have a wonderful, terrific, peaceful, renewing, rejuvenating, relaxing, blessed Friday and weekend. Take care and God Bless you all!!