It's been so long since I've done a blog hop. I just haven't had the time to go and visit everyone I wanted to but I so missed meeting and greeting new people too so this Friday I'm joining in with Java and her Never Growing Old blog.
Welcome to the 35th edition of the Follow Friday 40 and Over!!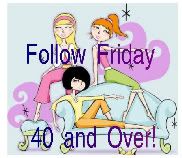 I hope that you all had a great week and now that it's Friday the week is just a few hours away and for me that means a work out at the gym and then some skiing with Mike. I'm not sure if we'll go down to Kathio or just some cross country skiing around here or just maybe he'll decide to pull me around on his snowmobile. We'll just see.
Take care my friends. God Bless!!